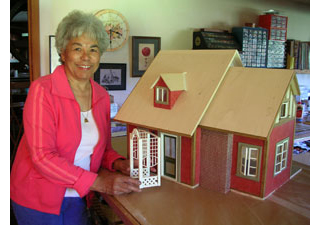 Pat discovered miniatures in 1987 and wanted to build her first house in tribute to her mom and a story they both loved; "The Good Cat, Jupie". Since then, She has built 13 complete houses.
"Miniatures includes so many other things I like to do", explained Pat. "It seems to satisfy everything else I like so I haven't strayed far from that".

Along the way, she's honed her skills in designing and building from scratch, attending workshops and making valuable contacts and friends. Some of the house projects include collaborative pieces that help tell the story and make the environment come alive. Assistance from her husband, John, has been invaluable in consultation and displaying the houses in their home. Her son, Jeffrey, has provided his artistic eyes for photography and technical skills for this web site.